Brand New Porch Model 3 bed 2 bath – San Antonio, TX 78223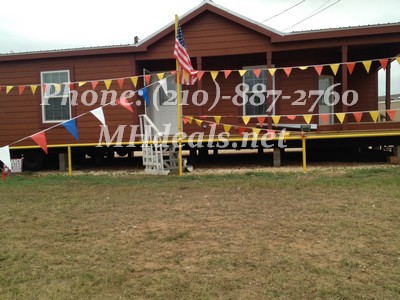 An absolutely beautiful brand new porch model, with 3 bedrooms, 2 bathrooms, and many other features. Located on our lot in San Antonio, TX, this home is displayed proudly up front for good reasons. The home is a huge 2,176 square feet (32 x 68). This home is very unique already because of it's faux cedar wood exterior. Not to mention the large porch with several pillars, giving you enough space to relax outside but still away from most elements. When entering the home, you will come to a space welcoming entrance with a small centralized divide, to where you and you guest can rest their items. The kitchen is very nice and modern. It comes with a small island, raised corner sink, almost all standard appliances, and LOTS of storage and counter space. The living area is large with a couple windows that let in a great amount of light, and a ceiling fan to keep the temperature stable. The bedrooms are near each other and are separate by a small nook. The master bedroom gives you a BIG and open wood lounge feel, comes with 2 windows, great wood appearance, large walk-in closet, and quick access to the master bathroom. The master bathroom has a his and her mirrored cabinets and sinks, great sized soaking tub and large separate shower, as well as bathroom cabinets both under the sink and beside the shower. The other bedrooms are carpeted with large closets. The second bathroom is efficient and in the middle of the 2 minor rooms. The utility/laundry room is next to all the bathroom and has the rear exit there, all for quick access. Now let me reiterate that this is a Brand New Porch Model, as in you can buy a home just like this.
If you are interested at all in this brand new porch model, please call us at (210)-887-2760.
Call for Pricing.
LIC 37277.
San Antonio, TX. Converse, TX. Kirby, TX. Universal City, TX. Schertz, TX. Austin, TX. Pleasanton,TX. Seguin, TX. Bandera, TX. Lytle, TX. Atascosa, TX. Somerset, TX. LaCoste, TX. Kyle, TX. Von Ormy, TX. San Marcos, TX. Elmendorf, TX. Uhland, TX. Bastrop, TX. Del Valle, TX. New Braunfels,TX. Uhland, TX. Bulverde, TX. Canyon Lake, TX. Castroville, TX. Hondo, TX. Uvalde, TX. Blanco, TX. Spring Branch, TX.
We have put a lot of effort into getting this home known, we have it on Pinterest, Youtube, and many more. Help us spread the word, share this page and tell anyone you know might want a home like this brand new porch model.
Brand New Porch Model 3 bed 2 bath – San Antonio, TX 78223