MANAGER'S SPECIAL DISCOUNT!!

New 3 bedroom home from $24,900
Call

210-887-2760 TODAY!
SO POPULAR IT'S EXTENDED Indefinitely!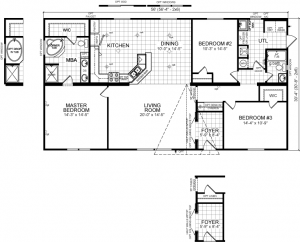 save thousands on this Beautiful double wide from Champion Homes. It features an amazing open floor plan that makes you feel it is much bigger on the inside!
With a large wrap around breakfast bar, wide kitchen and tons of cabinet space this kitchen is one of the most appreciated by moms everywhere!
The bedroom feature walk in closets and flat ceilings. you will notice the A/C vents are in the ceiling too not the floor.
There is a formal dining area and a kitchen dining area.
The ceilings are flat
the utility room features a large laundry sink, room for an extra freezer or storage as well as a separate are for a laundry machine and dryer
The exterior is a modern design style
full size shower and a large deep tub
GET THIS DEAL NOW!
The home is only $69,900
Comes with FREE: Delivery, installed, A/C, Deck, TV…
what are you waiting for?
210-887-2760