Mobile Homes in San Antonio & surrounding areas that you will love
MHdeals Manufactured Housing Sales in San Antonio and its surrounding areas will provide you with quality and affordable new and used mobile homes for many years.
Locally owned and operated, MHdeals Manufactured Housing Deals is the San Antonio mobile home dealer with choices unlike our competition.
We offer not 1 but 6 Major name brand manufactured home builders. Our team is dedicated to providing our customers with exceptional consulting services, superior housing options as well as top quality craftsmanship at an attainable price. See Our Mobile Home Gallery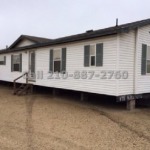 Mobile Homes in San Antonio
Manufactured Housing Deals is an industry leader in Texas mobile homes. We are the Financing experts in Texas as we offer the most financing options available for our selections of new and used manufactured homes in Texas. With hundreds of floor plans we can find the perfect home for you and your family.
Buying a mobile home in Texas requires the right company to help guide you through the process. We have the experience and manufactured & Modular housing knowledge to help you choose the best mobile home in San Antonio and Catering to the diversified needs of home buyers, we present the finest collection of manufactured homes that accommodate different preferences and budget of our clients. We also offer a wide spectrum of top-notch services, which include lucrative home financing and insurance packages, custom designed just for you.
Fantastic Mobile Homes for your Money!
If you are looking for excellent quality Texas mobile home with superb cost advantage, trust Manufactured Housing Consultants. With years of professional experience and in-depth knowledge in the industry, we cater to credit challenged, value minded and lower income homebuyers looking for an outstanding value for their investments. We offer expert consulting services with an extensive selection of mobile homes in Texas to help you choose the right property at the right price with most affordable payment options.
In addition to offering an exceptional portfolio of modern manufactured homes, we offer other services such as:
Expert consulting for free profile assessment
Free inspection of your mobile home at no additional cost
We will guide you to obtain appropriate county and city permits for buying a home
Outstanding financing programs for credit challenged, lower income home buyers
Extensive land location services are provided to approved buyers at no extra cost
At Mega Home deals, we believe housing should be affordable and attainable for everyone. No dream is too big or unrealistic for us. This is why our team of San Antonio mobile home consultants and financial specialists are renowned throughout the community as "miracle workers." No matter your current income situation or credit score, we can help you!
Our expert consulting services combined with our extensive selection of San Antonio manufactured homes guarantee success. We can help you choose the right mobile home at your price point and then set up a payment plan customized to your family's lifestyle and needs.
What are you waiting for? The home of your dreams is just a phone call away. Trust in Manufactured Housing Consultants to make your dream of buying a home a reality.
Click Here For More Information on Mobile Home Financing
Financing is Our Specialty!
At Manufactured Housing Consultants, we understand buying a manufactured home in Texas can be expensive, especially for lower income and credit-challenged home buyers. We offer the most lucrative opportunities to secure finances for your Texas mobile home. As financing is our specialty, we have exclusively designed a number of programs for home buyers.
Don't miss the great selection of mobile homes and lucrative financing programs! Call us today at 210-887-2760 to talk to our consultants or you can also contact us at: