Oak Creek Homes Double Wides
Manufactured Homes
Oak Creek Homes Photos and Floor plans of New Manufactured Homes for sale. The following affordable homes for sale near San Antonio, Texas
Double Wides
Manufactured Homes
CALL 210-887-2760 for more information.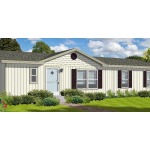 Oak creek homes double wides for sale floor plans and photos of various models. Affordable mobile home solutions for San Antonio & South Texas. 210-887-2760
San Antonio Texas Manufactured & Modular Homes
San Antonio, Texas is growing fast AND WITH THAT COMES HIGH DEMAND FOR AFFORDABLE HOUSING. Our Manufactured & Modular home construction is more exacting than that found in standard "site-built" homes and it also incorporates the efficiencies and high quality control specifically developed for "off-site" factory built home construction.
As a San Antonio Manufactured homes dealership, Our (mobile homes) Manufactured homes are built entirely in the factory, transported to the home installation site, and installed under a federal building code administered by the State of Texas & the U.S. Department of Housing and Urban Development (HUD). Learn More About Manufactured Homes from HUD.
Oak Creek Kitchens and Bathrooms
Once you have picked out the perfect floor plan for your NEW Oak Creek Home, the fun really begins. Your qualified Texas manufactured housing consultant will lead you a visual display of the design elements available for your new home. From kitchens and baths featured in our Photo Collections to colors and floor coverings. Share images with your friends, post on your facebook wall, or print them out for a reference. You will choose from combinations of tile, cabinets, and colors to stylize your home to match your taste. In short order, you will be hosting dinner from your new kitchen or relaxing in the garden tub of your luxurious bath.
GET STARTED TODAY call 210-887-2760