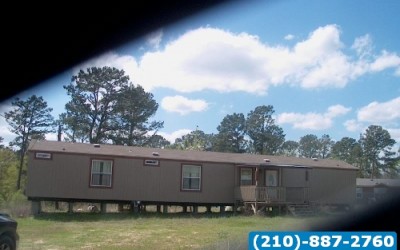 3 bed 2 bath 2011 Oakcreek- Cedar creek, TX 3 bed 2 bath 2011 Oakcreek- Cedar creek, TX. Size (Estimated): 16 X 76. Bedrooms: 3. Bathrooms: 2. Range Type: Electric. Siding Type: Hard board. Roof Type: Shingle. Furnace Type: Electric. Features and Benefits: Beautiful...
 Used  Homes
used homes Manufactured homes modular homes and land. Here are some used mobile home deals with and without manufactured home bank financing some are cash deals others are easy finance with low down payments. CALL 210-887-2760 for more information.
 Used  Homes
Manufactured used homes modular homes and land
Call us today! (210)-887-2760.
Didn't fall in love with this? We have absolutely beautiful homes both new and used available. Search our huge ever-
growing gallery for a home you will fall in love with. Also, join our newsletter and receive the fresh new listings every
week! We provide the best homes for the lowest cost. Come and see for yourself what we can do for you. We provide homes in
Texas for your browsing pleasure ranging up to 150 miles outside San Antonio. Including: Cedar Creek. Pleasanton. Boerne.
Kyle. Poteet. New Braunfels. Cibolo. Corpus Christi. Schertz. La Vernia. Seguin and many, many more.
RBI 37146