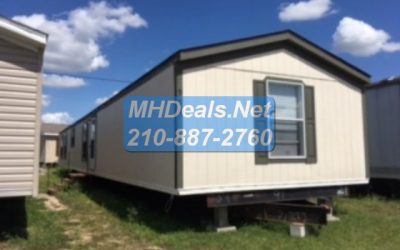 2016 OakCreek Oak Manor repo- Alamo TX $37,900 Manufacturer: Oak Creek. Year: 2016. Model: Oak Manor. Serial Number: 7860. Size (Estimated): 16 X 76. Bedrooms: 3. Bathrooms: 2. Range Type: Electric. Siding Type: Hard board. Roof Type: Shingle. Furnace Type: Electric....
Single Wide homes! We have a huge slew of used Single Wide Manufactured homes for you to browse and choose.
You can get Many used single wide homes here and on our galley.
How much is a single wide Mobile Home?
If you have any questions feel free to call us at (210)-887-2760
[schema type="product" url="http://mhdeals.net/gallery" name="Manufactured Homes" description="Manufactured Homes Mobile Homes & Trailer Houses that are for sale located near San Antonio Texas" brand="Mhdeals" condition="Used" ]
–
Used Single wide Mobile Manufactured Trailer Houses
Near San Antonio & surrounding area
(210) 887-2760
San Antonio Manufactured Homes
Photos & Floor plans of New Manufactured Homes,
Bank Repo Mobile Homes Used Mobile Homes
This is a list of San Antonio NEW HOMES & San Antonio Bank repossessed homes from all over South Texas showing homes within about 100 miles.
We can deliver new & used manufactured homes, reset them, strap them down, setup them up to state code. wind zone 2, deliver you home from a factory direct to you as well as tear down & store repossessed Double wide & Single wide affordable manufactured housing.
We are a Licensed NEW home dealer representing several different builder factories
This San Antonio, Texas location is also a san antonio bank repo storage center for the cheapest and BEST repo trailer houses.
Used Singlewide Trailer Houses San Antonio & surrounding area.
call (210) 887-2760
---
Single Wide Used bank repo manufactured Homes.Used Singlewide Trailers Houses San Antonio & surrounding area. Single section mobile homes. 2 3 4 bedroom trailer houses for sale. Used single wide, used mobile homes, trailer houses, bank repos, texas repo mobile homesUsed single wide, used mobile homes, trailer houses, bank repos, texas repo mobile homes. (210) 887-2760
texas repo mobile homes bank repo dealer lot storage center facility. We offer homes: We have Mobile Homes located within 100 miles of San Antonio, TX. & Converse, TX Kirby, TX Universal City, TX Schertz, TX Austin, TX Pleasanton,TX Seguin, TX Bandera, TX Lytle, TX Atascosa, TX Somerset, TX LaCoste, TX Kyle, TX Von Ormy, TX San Marcos, TX Elmendorf, TX Uhland, TX Bastrop, TX Del Valle, TX New Braunfels,TX Uhland, TX Bulverde, TX Canyon Lake, TX Castroville, TX Hondo, TX Uvalde, TX Blanco, TX Spring Branch, TX
[schema type="product" url="http://mhdeals.net" name="Manufactured Homes" description="Manufactured Homes Mobile Homes & Trailer Houses that are for sale located near San Antonio Texas" brand="Mhdeals" condition="Used" ]