Check out the housing for sale
Workforce Housing Trailers. When looking for the best options on buying, transporting and installing housing a workforce in remote areas of Texas & North Dakota you have to consider several factors.
First being your budgetary restrictions. This means how much are you going to need for each unit. The workforce housing units installed in remote MANCAMPS all throughout Texas & North Dakota are built rugged to withstand multiple moves. This is important if your workforce camp is moved from area to area as your drill or mine.
Another factor is the environment. The homes must be built to withstand the heat and cold. Having workers sweating uncomfortably can cause anxiety and lack of sleep affecting safety at the man camps and workforce housing camps.
Our selection of housing units for the work offices and sleeping units is vast and we can typically build and transport a home to your location in under 30 days.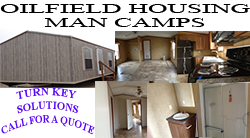 Affordable vs. Workforce housing Semantics
Objections to affordable workforce housing are not limited to very low income housing. Proposed housing for households at 50 or 60 percent of median income draw critics as well. To counter such objections, the term"work-force housing" is often used to convey that it is working families that are being served, not people on public assistance.
Affordable workforce Housing: Subsidy or Social Equity?
One of the gravest difficulties in producing affordable housing is that the demand for housing assistance in the U.S. outstrips federal and state funding by three to one. One reason for the limited funding is a lack of general public support for low-income housing programs. In comparison, housing subsidies for middle- and upper-income families in the form of deductions for mortgage interest, property taxes and capital gains enjoy broad support. These deductions total about $2.5 billion in reduced tax revenues, or roughly three times the budget for the U.S. Department of Housing and Urban Development. (HUD).
Use of the word "affordable"in reference to housing is imprecise at best. It can be confusing and misleading. It can refer to:
Moderately priced dwelling units that families earning 60 to 120 percent of the area median income (AMI) can purchase
Public housing for low-income people earning below 50 percent of AMI.
Housing that is subsidized through the use of Section 8 vouchers or low-income tax credits, designed for families earning 50 to 60 percent of AMI who cannot afford market rate housing.
Fannie Mae's definition of affordable housing:
At least 20% of all units must have restricted rents affordable to
households earning no more than 50% of AMI OR at least 40% of all units have restricted rents affordable to households earning no more than 60% of AMI OR there is a compelling public purpose "namely continued affordability" which if furthered by the property.
Urban Land Institute's definition of workforce housing:
Affordable to households of low, moderate and above moderate income in a range of 60 -120% of AMI
Housing Land Trust Fund of San Francisco Bay definition of workforce housing:
Housing that is affordable to private and public sector workers with incomes at or below that of teachers and public safety workers.
In this report, affordable workforce housing refers to mixed income housing development that includes all income categories: very low, low, moderate, above moderate and market rate housing. Workforce housing refers to mixed income housing that excludes very low income households.
(Source: Millennial Housing Commission, 2002, Table 8).